Did you know that 16% of all buyers in the Spanish property market are international? Spain also boasts a 4% gross rental yield on its property investments, which ranks it highly among other major European countries such as the UK or France. When these two facts are combined with the outstanding variety of property types and beautiful locations the country has to offer, it becomes clear that Spain should be high on property investors' agendas.
As quarantine restrictions begin to ease in 2021, we can expect to see more tourist arrivals into the country which will boost an economy that is heavily reliant on tourism. Despite the negative impact of the pandemic on the Spanish property market, it remains resilient and will continue to be a good place to invest in real estate.
To learn more about real estate crowdfunding in Spain, download your free report today and receive the tips, insights, and market trends that can help you make the most out of your investments.
Here is a rundown of the various regions around the country and what they can offer in terms of real estate, culture, and environment.
Madrid
As Spain's capital, Madrid couldn't be more centrally located. Its market is particularly friendly for foreign investors - in the first half of 2018, there were almost 5,000 property sales to foreigners alone.
The current value of the property market in Madrid is the highest it has ever been, and the prices are rising to reflect this - at the start of 2019, the average price of rent was 13.51 euros per square metre. Madrid is perfectly suited for people who are interested in football, nightlife tapas bars, and urban Spanish culture.
Barcelona
Undoubtedly one of the coolest cities in the world, Barcelona is full of vibrant art-deco architecture, sprawling streets of bars, and startups at the cutting edge of technology. Between 2013 and 2018, it attracted approximately 2.22 billion euros in private equity investment, making it one of the biggest sources of venture capital in Europe.
This means that investors can charge higher rent in Barcelona than they can in Madrid. Plus, the short-term rental market is more than ample during the tourist season given Barcelona's cruise port and great rail links to the French Riviera to the north or Valencia to the south. With 3.5%, Barcelona has a slightly higher yield than Madrid in prime real estate, which places it among the best major cities in Europe for this category.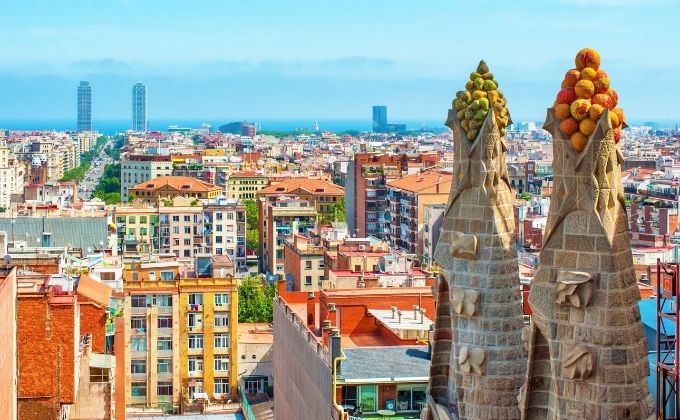 Barcelona's dazzling architecture on display

Mallorca and Canary Islands
Spain's island territories off the coast of Africa are extremely well placed for summer getaways from the European continent or from the British Isles. This makes them an investors paradise if you're looking to tap into the Airbnb/holiday rental market.
The islands have a high percentage of foreign nationals living there (one in six), many of whom have taken advantage of the corporate tax advantages for business investors, which are much lower than Spain's average. The main island of the Canaries, Gran Canaria, has one of the highest average rental yields in the country at 6.8%. As of 2019, the average house prices across the Canary Islands are 1,604 euros per square metre.
The Basque Country
The Basque Country is a very wealthy region, with very high standards of living, and this is reflected in the average rental price for an existing home, which is €10.82 per square metre.
The main province of the region, Vizcaya, contains 80 kilometres of sandy beaches along the northern coast. San Sebastien, the main city of Vizcaya, is a luxurious destination and has an average rental yield of 3.4%. In the rapidly-developing commercial port city of Bilbao, the average rental yield is 4.11%.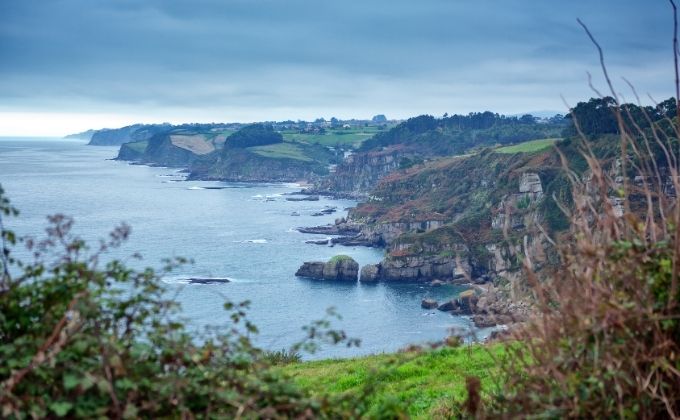 The Bay of Biscay offers stunning views to visitors and residents of San Sebastien

Southern Spain
The South of Spain has been a refuge for retirees and holiday-makers for decades due to the vast coastline. There is also an abundance of resort properties and vacation rentals in the region offering good returns - Malaga has a gross average rental yield of 4.66% in the city centre. Andalucia is also known for its outstanding weather - there are said to be over 300 days of sun each year!
There is much variety to be found in the various regions around Spain and a real estate investor can comfortably find a property tailored to their exact investment needs. Although the full impact of COVID-19 on the Spanish property market is still to be determined, there are clear signs that the market will recover throughout 2021.
This post is a condensed version of an article written by our CEO Jan Večerka. You can find the full article at PropertyInvestorUK.