Ever consider investing in real estate, but didn't know where to start? Look no further than our Comprehensive Guide to Real Estate Crowdfunding.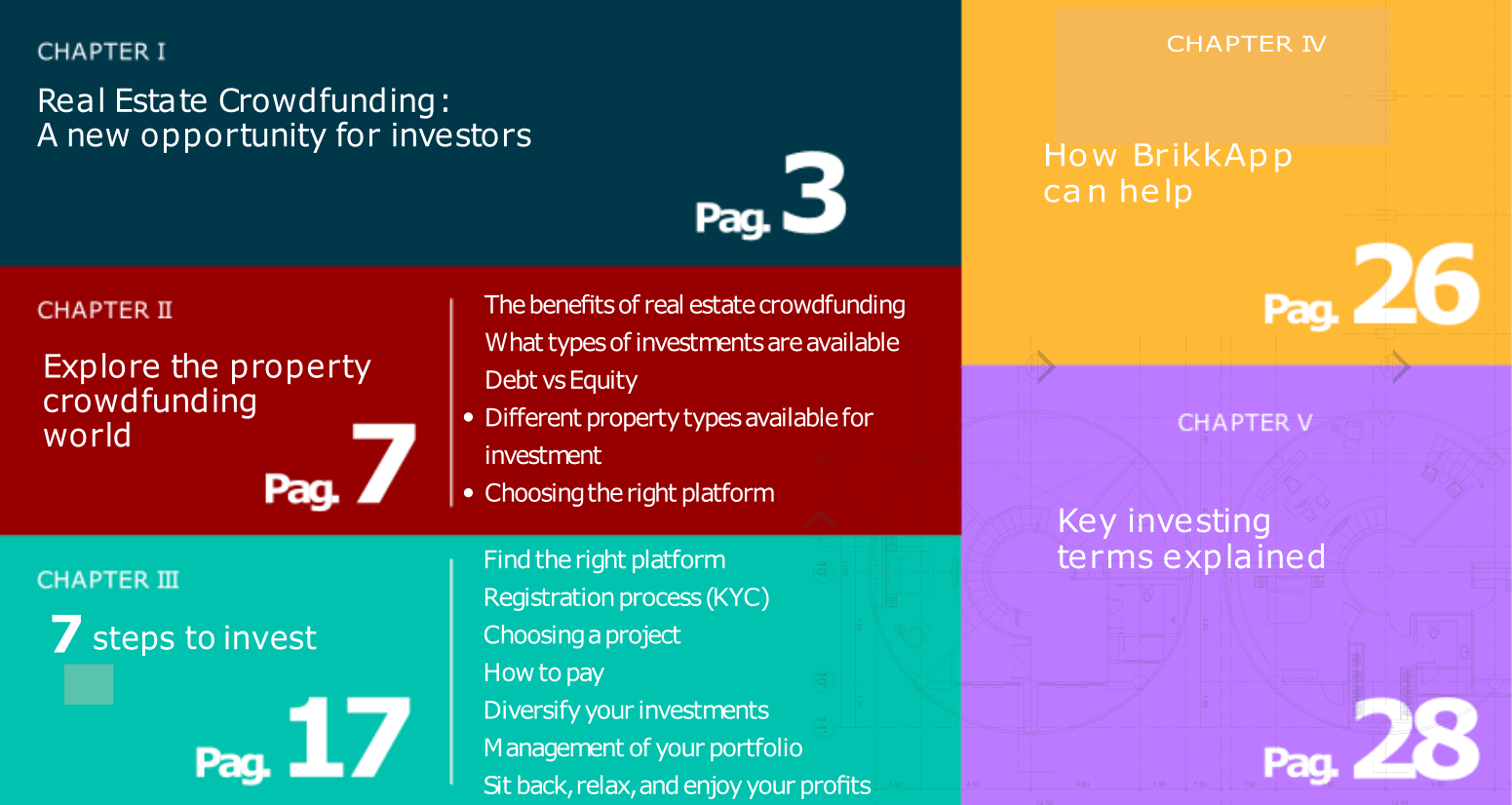 Introducing our free eBook, where you can discover the benefits of real estate crowdfunding, how you can choose the right platform for your investment goals, and finally our 7 step process to real estate investing. After reading the eBook, you will know everything you need to in order to get started investing in your first online property and how BrikkApp can help you make better and more informed decisions.
The Property Crowdfunding World
There are many benefits when it comes to investing in real estate crowdfunding. These include the ability to invest in property online without the hassle of caring for the property in person, a much more simple investment process in comparison to traditional property investing, and excellent risk/yield ratios.
Different types of property investments include debt and equity. With debt investments, investors act as lenders to the real estate project owner. The holding periods are mostly short, ranging between 6 and 24 months. During this period investors receive a fixed interest payment.

While debt investments are more common, investors with equity investments own a proportional share of the specific real estate project. Investors generally receive a higher return in this kind of arrangement, which goes hand in hand with higher risk and longer holding periods.
7 Steps to Invest in Real Estate Crowdfunding
As previously mentioned, another resource you will find in your eBook are BrikkApp's 7 steps to investing in real estate crowdfunding. The steps are as follows:
1. Finding the right platform
There are a large variety of choices, with the property crowdfunding market growing more and more each year. If you follow our tips and tricks covered in the "Exploring the property crowdfunding world" section, you should be able to make an informed decision on the right platform for your investment goals.
2. Registration process (KYC)
The Know Your Customer Identification process takes as little as 10 minutes to complete and at most a couple of days to be verified.
3. Choosing a project
Once you've chosen a platform, you are ready to look for the right project to invest in. It's important that you look at the deal details, type of property, demographics, project developer, liquidity, and risk of the property. Each real estate platform should provide a range of data on the investment opportunities they are offering.
4. How to pay
Payment can be done in a variety of ways depending on the platform. Simply deposit the money into the platform using a bank transfer.
5. Diversifying your investments
Diversification is a major benefit of real estate crowdfunding. Because the minimum investment amounts are much lower, you're able to invest in a variety of property projects.
6. Managing your portfolio
After you have diversified your investments into several properties, it is time to manage your portfolio effectively. Platforms will give you constant updates on your portfolio about what is going on with your investments so that you can adjust your investment decisions accordingly.
7. Sitting back, relaxing, and enjoying your profits
The end goal of every investment project is to turn a profit. For you, it's time to sit back and wait for the income to start rolling in.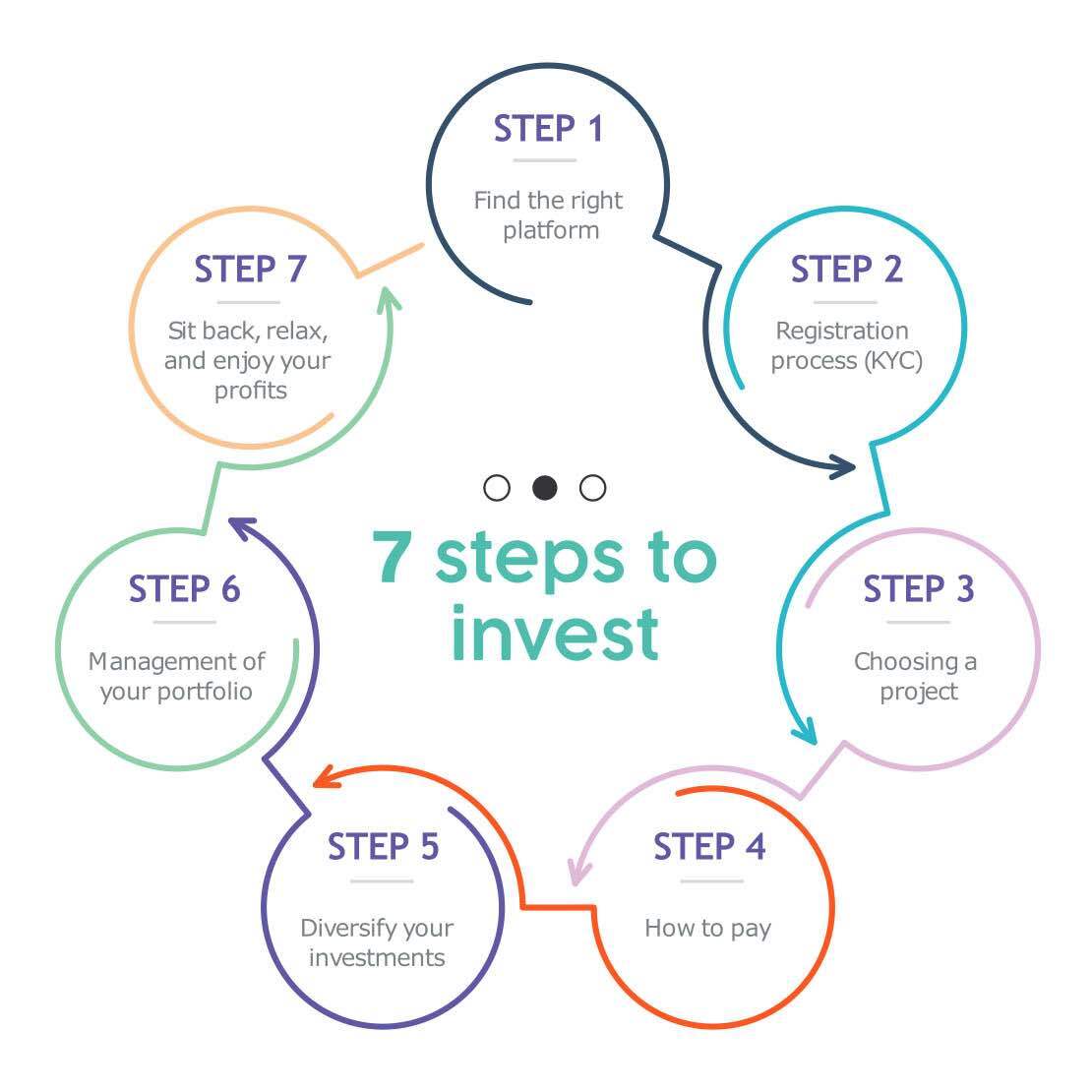 How BrikkApp can help
BrikkApp is a free international investment search engine providing trustworthy data from the world of real estate crowdfunding. Our goal is to provide you with as much transparent data as possible for you to be able to compare platforms and make an informed investment decision. Through our dashboard, you will learn more about property crowdfunding, understand the different types of real estate crowdfunding, and you will be able to compare investment opportunities worldwide.
BrikkApp has built a world where the benefits of property investing can be enjoyed by all.
Real estate crowdfunding offers a tangible asset to a large number of investors from small investments amounts onward. With the knowledge covered in the free eBook, you will be ready to make better investment decisions and to choose the first projects for your real estate portfolio.