Investing in real estate, either in the traditional way or through online crowdfunding, is not an easy decision to make. Despite online investing being less risky and more accessible than traditional real estate investing, finding the right opportunity to invest in is still the biggest challenge online investors are facing.
Finding the right platform which has a good reputation is not enough. There are many other steps to consider. Knowing how to choose the right deal, one which fits perfectly with our preferences and status is the key to investing successfully.

There are many aspects involved in selecting the right deal that needs to be taken into consideration before making the next step.
Each deal can be different in terms of the:

Deal Details
Demographic Data
Project Developer (Sponsor)
Liquidity
Fees
Investment Related Numbers
The Risk
1. Deal Details
Each real estate crowdfunding platform provides a different amount of data regarding each particular deal. Some platforms have professionals who are responsible for analyzing and evaluating possible investment opportunities and then choosing only the most promising ones, which are then offered on their website.
This process minimizes the chance of investors losing their money and gives them the most important data to help investors decide. However, it still doesn't mean all the investment projects that are offered are 100% safe, and investors should still spend some time at least double-checking all data presented.

Then, there are platforms, which serve more as matchmakers only, meaning they don't offer in-depth information about specific projects. They are more likely to only collate possible investment projects without any analysis or risk assessment.

In this case, it's up to investors to investigate each investment project individually and evaluate the amount of risk and other circumstances surrounding the project.

2. Demographic Data
When analyzing real estate investment projects, demographic data plays a huge role. Platforms very often provide basic demographic research, however, it is still highly recommended for investors to dig deeper and do their own research.

This research should involve:

The economic situation and prospects in the area
The local rental market and rent comparability
The demographics and size of the population including whether it's growing or shrinking
The outlook for job growth and the unemployment rate
Property value development
Crime statistics
The projected number of units being built in the local area
3. Project Developer (Sponsor)
The project developer is the company that plans to execute the whole project and to whom investors entrust their money.
Before deciding whether to invest in a project or not, it is good practice to check how experienced the project developer is. For example, what is their history of completed projects, and have they ever done similar deals to yours?
Some developers/sponsors have a history of successful projects, so investors can expect a certain level of knowledge and professionalism. Some have far less experience and investors should consider that in their risk assessment.

To learn more about real estate crowdfunding, download your free eBook today and receive the tips, insights, and market trends that can help you make the most out of your investments.
4. Liquidity
Investing in real estate online is more liquid than traditional real estate investing. But naturally, some projects are more liquid than others.
The holding periods for debt/loans-based real estate investments are usually between 6 - 24 months and investors are paid monthly via loan interest. This makes debt-based investments more liquid than equity-based ones.

In the case of equity-based investments, it is a bit more complicated. Although investors usually receive a certain amount of income in the form of dividends, the holding period may last a couple of years. Some platforms even advise their users with statements similar to this:
"The estimated investment holding period described here is only a projection, and there can be no assurance when or if an investment may be liquidated".
So even though some platforms offer a secondary market, where investors can trade their investments to liquidate their assets faster, liquidity is still something that needs to be considered carefully before investing in real estate online.
5. Fees
Fees that investors are charged while investing in real estate properties online may also determine if a platform or a project is worth it or not. Some platforms charge investors based on how many projects they are involved in and how much they invest in them, while some charge investors based on the income they generate through their investment projects.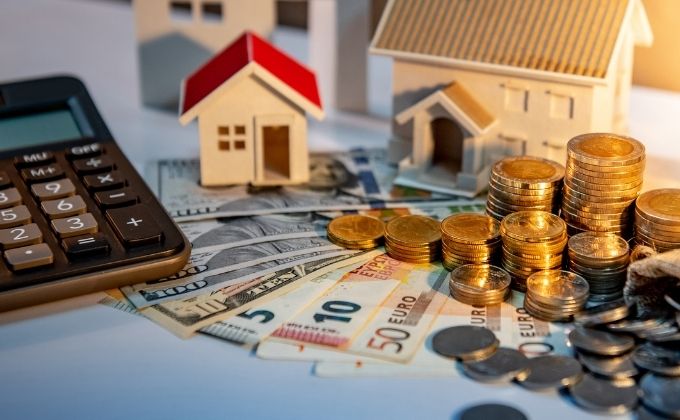 Charges that investors occur can vary depending on the platform, income returned, or the number of projects involved.

There are also platforms that don't charge investors but do charge borrowers (project developers and sponsors).

Each platform approaches fees slightly differently so investors should do their research for each platform and review their fee policy statements before investing.

6. Investment Related Numbers
When choosing the right deal, all investors are interested in how high the return on their investment will be. Every platform uses different indicators to demonstrate the potential of each project. We are going to mention the most common ones and what they indicate.
Investors can find terms such as:

Yield
The internal rate of return (IRR)
Loan-to-value ratio (LTV)
IRR and yield are indicators showing a projected return. This means the higher the number is, the better the return it offers.

LTV indicates the ratio of the loan value to the asset value. For instance, if the loan value is €150 000 and the property value is €200 000, the LTV would be 75%. A higher LTV means higher risk, but it also often means a higher return.
Investors should consider these figures with care. Especially if the figures stated are achievable. If the figures appear too high or too low and seem suspicious, it may be something you want to avoid, or at least check closely.
7. The Risk
It is important to realize that no matter how hard we try, every investment is associated with risk. Higher returns are naturally related to higher risk. Consider your financial situation and expected outcome carefully and do your research to minimize the potential risk.

Diversifying your investments is also a good way to reduce risk, instead of putting all your assets into a single project.

Final Thought
Considering the areas mentioned above can definitely help investors choose the right real estate crowdfunding deal; one which meets their expectations and needs, and makes the whole process much easier and less complicated.